Epson Colorworks C3500 Printer Rental for Corporate Events
The Epson C3500 printer is the best badge printer that produces high-quality and durable labels in four colors (CMYK). It offers print rates of up to 4 inches per second, a banding reduction mode, a nozzle check system, and other features. It is perfect for high-mix, low-volume applications.
The Epson ColorWorks C3500 Printer brings high-quality color and on-demand versatility to your badges, tags, ID cards, tickets, and visiting cards in a variety of sizes and types. It is designed to help your business print a wide variety of colorful labels for your events. Epson C3500 printer appears to be the best option for you!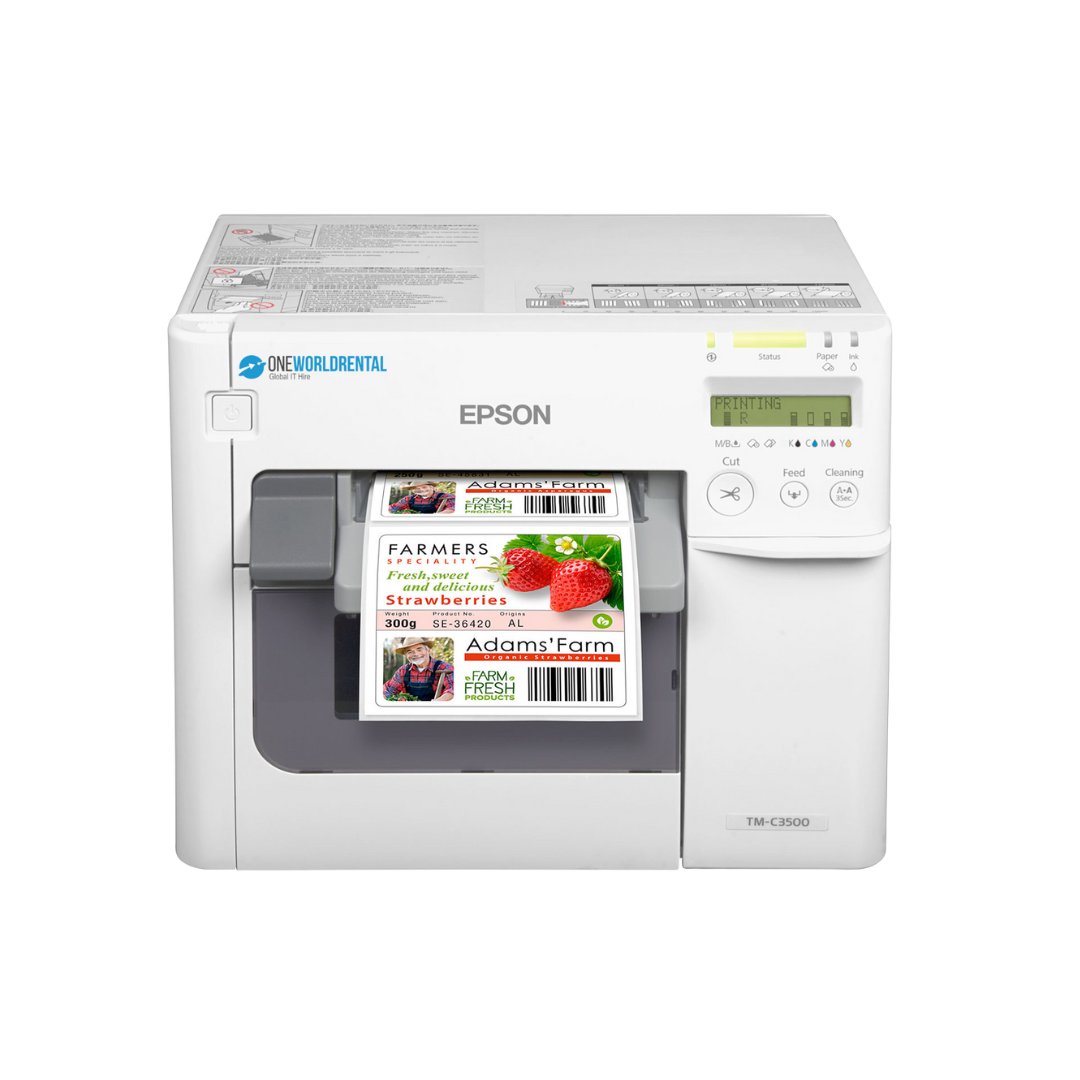 One World Rental Will Deliver to Your Event Location Across the UAE
One World Rental has an consultative approach to event technology rental. We provide you with rental services of Epson C3500 so you can concentrate on the event rather than focusing on the requirements of the event. One World Rental provides the latest badge printers on rental to the extra ink cartridges, badge stock, and staffing for registration setups for corporate events. Where ever you need it across the GCC.
One World Rental is client approved for badge printer rentals and has been offering hardware and on-site staffing services for event registration and printing needs around the globe for years.
Rent Epson™ C3500 Label Printer
Embrace the latest printing technology with One World Rental
Get A Quote Now!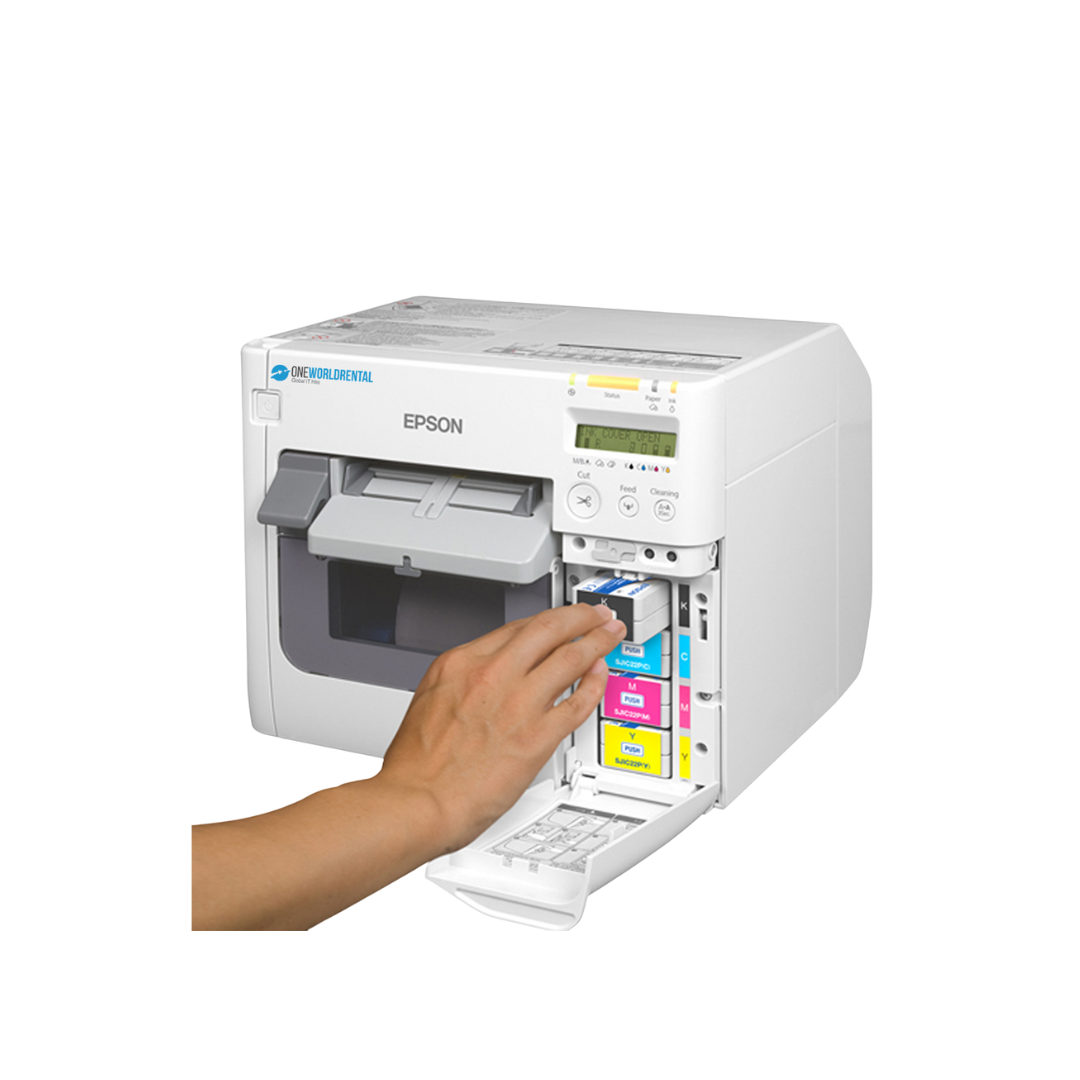 Rent ColorWorks C3500 Printer - Print with Perfection
The Epson C3500 badge printer rental enabled you to benefit from a premium on site printing solution. A versatile solution when we talk about badge printing and template design. There is a large selection of blank badges and tag stock available. Labels, badges and tags come in a range of shapes, sizes, styles, and materials, whether you need little circular die-cut labels or wide continuous label paper.
The printing technology of the Epson C3500 printer makes it possible to create badges of great quality. Rent Epson Colorworks C3500 Printer so you can print personalized badges as per your company's requirements.
Simply because of its qualities, the Epson C3500 printer is the best rental option for event planners and business owners. It should be your first choice for your on-site badge printing needs considering its fast print speed.
Get in touch with One World Rental for more queries about renting an Epson C3500 badge printer for your events. Our qualified account managers may also go over the integration and final solution with you. Hire ColorWorks C3500 now!
Key Specifications of Epson C3500
High-speed and simpler operations are offered by the Epson C3500 series of 4-colour inkjet printers. For instant handling, dries quickly without spreading. Rapid printing up to 103 mm/sec1. The print resolution is 720 dpi x 360 dpi in quality mode and 360 dpi x 720 dpi in speed mode. high dependability for printing badges as needed.
All popular onsite registration applications have simple integration. Event planners and organizations favor it because of its rear-feed capacity for fanfold and huge rolls. Flexible communication using USB and Ethernet connectors.
For effective ink usage, utilize individual ink cartridges. Epson C3500 is designed to endure in demanding office environments and is dust- and water-resistant. This item's MTBF is 88 000 hours.
The Epson C3500 printer's separate pigment ink cartridges make it possible to print labels at a cheap cost per badge because you only need to replace the used color.
What Our Customers Say About Us
"I've had a wonderful experience renting from One World Rental. Selection from a wide range of options and deciding what would work best was made super easy by their expert. From the order itself to the delivery of order, they responded in timely manner, which was essential in a time of urgency. They were very effective and prompt with arranging everything as well. One World Rental provided excellent service, and I heartily endorse them! "

Frequently Asked Questions
The Epson TM-C3500 label printer is a small badge printer renowned for its excellent print and ink quality. So, we have tried to answer the most frequently asked questions about our Epson C3500 rental services. You can consult with our specialists right away if you still have queries!


Consult Now!