Rent Portable WiFi Easily!
Introducing simple, powerful event WiFi.
Temporary internet access for events is now easier than ever. Have you heard of our newest innovation? It's called WiFi in a Box and enables you to rent portable internet that is simple to operate, easy to transport, and incredibly convenient.
How does WiFi in a Box Work?
WiFi in a box arrives to you in a portable 10kg pelicase. It comes with a regional plug and is applicable for 110v or 220v. You don't need networking engineers to operate this, because we've designed a system that anyone can use. Simply plug it in. Wait three minutes. Receive a WiFi connection that extends to a geographical area of up to 40 metres and can serve up to 100 users. We can scale up this solution to reach more users in a larger area if needed- simply let our team know your requirements and we're happy to help.
WiFi in a Box is perfect for a range of events.
Temporary internet access for events is crucial for product launches, tradeshows, festivals, exhibitions, pop-up shops, conferences and seminars. It enables you to do business with the greatest ease. You also can give out private SSDIs to guests or staff members with individual passwords. You can control the amount of bandwidth used through traffic shaping features. And if you need any assistance at all we offer 24/7 live support with a technical team that will explain anything you need to know about it in a way that's easy to understand. Our team of professionals are always willing to help.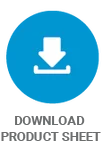 Wifi in a Box
Uses 4x 4g/LTE-Advanced cellular providers.
Runs concurrently for icreased performance and 99.9% uptime.
Remote access management: user bandwidth and usage analytics.
Traffic shaping and Bandwidth Control per user
Optional additional pricate SSIDs (WiFi networks) and passwords.
Live Remote Support 24/7
Security and high-speed portable WiFi
Portable WiFi that meets all of the latest security requirements is what we offer. Expect 99.9% uptime so you receive a signal that is powerful and consistent. WiFi in a Box uses four different 4G/LTE advanced cellular providers, each runs concurrently to ensure the signal. Monitor usage analytics online. It's simple, customisable, and puts you in control of your temporary WiFi rental.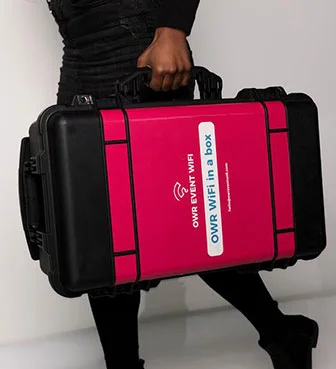 Branded content, both signage and digital content available.
Give your guests an easy route to your event WiFi through signage that directs them to a landing page and event WiFi password. We have a design team that can create the physical signage, branded to your exact specifications. We also have content experts who can create login pages and splash pages that best represent your event and business. It sends a consistent, professional message to attendees that everyone appreciates and recognises.
How else can we help your business event succeed?
At One World Rental, we take your event success seriously. How can we help you with your WiFi requirements and equipment needs? We have a team of event staff and IT technicians who can help you with your requirements or make suggestions based on the specs of your next event. For over a decade we've been providing event equipment of nearly every type, such as scanners, iPads, LED video walls, printers, EPOS systems and so much more. We also have additional internet options available, as well as our newest product, WiFi in a Box.
Whatever you need, we're here to help 24/7, for your convenience.