One World Rental Can Supply the Latest Range of Apple iPad Rental in Dubai, Muscat, and Qatar.
Using outdated technology at events can lead to frustrating technical issues and delays, negatively affecting the event's flow and leaving attendees dissatisfied. One World Rental UAE provides powerful portable event solutions, including iPad rental services. Our rental service offers cost-effective and efficient solutions for any event, with the latest iPad models customized to meet your business needs.

If you're organizing a corporate event in the Middle East, you can depend on One World Rental's team for iPad hire UAE services. At One World Rental in Dubai, we have high volumes of iPads available for short-term hire to use at corporate events and public exhibitions. iPad rental Dubai has become a popular and essential event technology product for event professionals to hire and make their events as interactive and efficient as possible.

Our goal is to equip your attendees with everything necessary for a successful event, and we offer a range of accessories to optimize your iPads' performance. These include floating magic keyboards, magic mice, chargers, cables, headphones, and Kensington locks. Our reliable and effective iPad rental service can help enhance audience engagement and improve the overall event experience.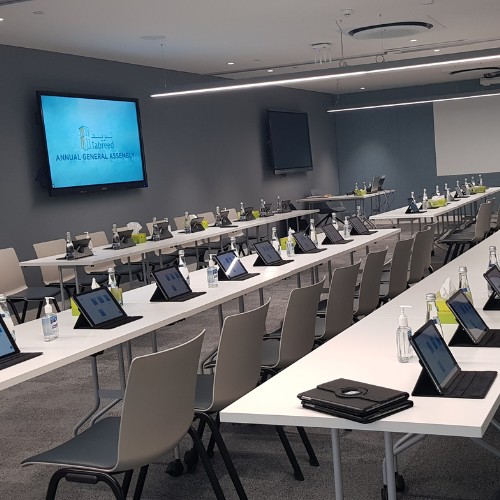 Get Outstanding Performance and Display Quality with iPad Pro 12.9 Rental
Boost your display and performance with One World Rental's iPad Pro 12.9 solution, featuring the latest models with advanced features such as the A12Z Bionic Processor, 12.9-inch edge-to-edge display, and compatibility with Apple Pencil 2, Smart Keyboard Folio, and Magic Keyboard with Trackpad. Whether for conferences, entertainment, or staying connected, the iPad Pro 12.9 provides exceptional speed and power. Choose our flexible rental package for your event and experience superior performance and display quality.
iPad Pro 10.5 WiFi
Discover the iPad Pro 10.5, a device that expertly balances power and portability, ideal for work and leisure, especially at events.

With robust event-ready Wi-Fi, this iPad guarantees uninterrupted internet access, enabling seamless web surfing, content streaming, and collaboration. Whether you're at home, in the office, or on the go, the iPad Pro 10.5 WiFi ensures lightning-fast, reliable, and secure internet connectivity, keeping your events digitally connected.
5th and 6th Gen 9.7 iPad Rental - An Innovative and Effective Rental Option
The 9.7" iPad Pro models, which come with a 128GB hard drive, an 8MP iSight camera for taking high-quality pictures, and FaceTime HD for better communication with others, will improve your touch and visual experience. Thanks to these capabilities, it is a powerful tool for both personal and business use.

The 9.7" iPad 6th and 5th generation is an effective and sensible upgrade for your technological experience. With 128GB memory, you can store all of your important files, pictures, and videos without worrying about running out of room. Enjoy a fluid and quick technological experience with One World Rental's 9.7" iPad Pro devices.

Get the optimal balance of convenience and functionality with our flexible rental packages and affordable price options. Contact us right away to learn more about iPad hire in Dubai.
Rent an iPad Mini for Your Next Event to Make an Impression
iPad Mini rentals are incredibly capable devices available in a compact and portable size. Despite its small size, it has a large screen with smooth edges and thin borders. This 7.9-inch tablet with a front camera, lots of storage, and a 1GHz one-core processor is an excellent choice for events because it has all these features.

The iPad Mini is a terrific addition to any event, providing participants with a seamless and compelling technology experience thanks to its impressive performance and chic appearance. For reliable and fashionable 7.9 iPad rentals for your future event, choose One World Rental.
Cellular iPad Rentals May Boost Your Business Processes
iPads are essential for events because they provide guests with important information and make processes like navigation, registration, and payment processing easier. Consider renting a cellular iPad for your upcoming event to guarantee seamless connectivity. You may avoid relying on the venue's Wi-Fi and worrying about sporadic network signals if your device has built-in cellular capabilities.

A cellular iPad rental can improve the event experience for organizers and attendees, connecting them to crucial information, whether it's a trade fair, conference, or festival. With our trustworthy and adaptable rental solutions at One World Rental, you can stay connected and maintain the efficiency of your event. To find out more about our Abu Dhabi rental packages, contact us right away.
Our Valued Clients Trust Our iPad Rentals for Events Like:
Festival & Outdoor Events
Food Trucks & Stands
Event Checking & Registration
Merchandise Stands
Online Donations
Charity & Auction Events
Corporate Events
Sporting Events
Educational Class Setups
Awards & Conventions
Add Stands, Accessories, and Security Upgrades to Your iPad Rental Quote
You may enhance your business events with a range of accessories when you hire an iPad from us. Take a look at our range of event technology accessories below.
iPad Stands
Kensington Locks
OWR Power Banks
Charging Hubs (OWR 10 or 20 Port USB Charger)
iPad Cases (iPad Leather Cases, Neck Straps, Air Strap Cases)
Stylus Pro Pens
POS Card Readers
iPad Pro Smart Keyboard Folios
Bluetooth Keyboards
Use Our iPad Air Rental Products for Efficient Event Check In and Registration Processes. We Can Provide 4G iPad Hire With the iPad Mini Rental Package.
The iPad Mini is a powerful device that can connect easily with our 4G iPad hire SIM cards. Our iPad Mini rental is a good choice for mobile users who often need to move from one location to another or work n locations with limited or no Wi-Fi.
Our iPad Pro 12.9 Hire Is Often Used for Interactive Presentations and Product Launches
Our iPad Pro 12.9 hire package is more than just a tablet. Its versatility allows users to convert the iPad Pro 12.9 hire into a studio or a full laptop. The iPad Pro 12.9 hire package is great for large group presentations where users can make live notes, mark pages directly on the touch screen, and share ideas and voting options online for full user interaction.

For more information on iPad rental, contact our team today for a full consultation.
Visit One World Rental To Get a Variety of Tablets and Event Technology Options
In addition to our iPad rentals, One World Rental provides a wide selection of tablet hires for events and event technology solutions to meet your specific needs. If you need a different brand or type of device, we can offer you affordable solutions that meet your event requirements. For the smooth operation of your event, our collection includes cutting-edge technology and equipment such as tablet stands, charging carts, keyboards, and security solutions. Contact us now to learn more about the additional tablets, One World Rental offers and our comprehensive event technology solutions.
What Are the Reasons to Choose One World Rental?
One World Rental is a company that specializes in event technology solutions and provides a diverse range of devices to meet the unique needs of its clients. Their inventory includes various brands, including the latest iPads, to ensure you have the appropriate device for your event. One World Rental is dedicated to delivering a successful and stress-free event experience with 24/7 technical and customer support. They handle everything from consultation and installation to on-site assistance and equipment retrieval.

Choose One World Rental for a hassle-free rental experience with dependable, high-quality technology. Clients who require technology rentals can benefit from various advantages, such as:
What Our Customers Say About Us
We utilized the rental services offered by One World Rental to procure laptops and iPads for an event we organized. The support provided by their team surpassed our expectations, and we were thoroughly pleased with it. They made every effort to ensure that all the devices were prepared for the event and functioned without issues. We thank One World Rental for their valuable assistance in making our event a resounding triumph.
One World Rental's iPad rental service made our event a seamless experience. Their prompt delivery and support ensured our guests had the latest technology at their fingertips.
One World Rental's iPad rental elevated our product launch event. The devices were pre-loaded with our content, and their technical support team was on standby, making it a hassle-free experience.